Darby Kent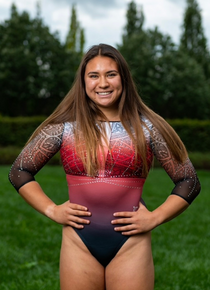 Meet Darby Kent
Hometown: Stony Brook, NY
College: CALS
Major: Food Sciences
Year: 2023
Spotlight on Mental Health and Wellness
Promoting the health and well-being of all students is foundational for academic and life success. The Student Mental Health Collective works to advocate peer-to-peer discussion in the support and enhancement of student well-being, and reduce the stigma of mental illness.
As part of this discussion, SMHC is speaking to students from across campus to share experiences and helpful tips that support fellow Cornellians and fosters community around collective mental health on campus.
What are your favorite ways to take care of your body?
Cornell is located in such a beautiful place. I absolutely love taking walks around campus and especially Beebe Lake. These walks act like a quick reset for me and come in handy during stressful times in the year. Ithaca isn't always the sunniest place to be but, when it is sunny out, I make an effort to go enjoy some of the sun and it always brings a smile to my face. Also... SLEEP! I've found that sleep is one of the best ways you can take care of yourself in college. During freshman year, I would spend hours in the Libraries (until 2 or 3 am) to study and then wake up at 8 am for class.Looking back, the benefit of getting a good night's sleep was way more beneficial than the extra few hours of inefficient studying.
What are your non-negotiables when taking care of your physical health in college?
When it comes to physical health in college, I found it extremely important to establish your own personal non-negotiables. It took all of my freshman year to realize how much eating meals consistently, getting 8 hours of sleep, and taking alone time can help not only my physical health but also my mental health. Before going to bed, I take 5 minutes to tidy up my room, light a candle and take a minute to relax. In the mornings, I've made it a non-negotiable to make sure my bed is made and that I write a to-do list for the day to help organize my thoughts. Because, I'm on the gymnastics team, going to practice and the lift has become such an integral part of my daily life! Lastly, being heavily involved on campus can be both extremely rewarding but also very stressful. It's been helpful to put my phone on do not disturb during times of high stress or around the time I go to sleep.
How have you created community through physical activity?
In high school, I was recruited for the gymnastics team here at Cornell so I knew going into Freshman year, that'd I'd have a group of people who all share the same passion as me. The gymnastics team has not only created a community through physical activity but it has created a family. We spend countless hours together whether it be during practice or life, traveling to meets or team dinners. We all share such a strong love for our sport and because of that, we've created a"home away from home" for ourselves.
What clubs are you involved in?
Student-Athlete Advisory Committee, Cornell Varsity Women's Gymnastics
What's your favorite spot on-campus or place to hang out with friends?
Big Red Barn
This series was developed on recommendations from Cornell's Mental Health Review. 
A wide range of supportive resources are available at mentalhealth.cornell.edu for students in need. An Ithaca-based Crisisline is available at 607-272-1616.
Students in need of professional mental health support can call Counseling and Psychological Services (CAPS) at 607-255-5155 and employees can call the Faculty and Staff Assistance Program (FSAP) at 607-255-2673.