Daniel James II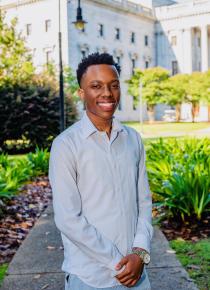 Meet Daniel James II
Hometown: Marion, SC
College: School of Industrial and Labor Relations
Major: Industrial and Labor Relations
Year: 2022
We recently sat down with rising ILR senior, and host and creator of the popular campus podcast and radio show, "Black Voices on the Hill", Daniel James II. Below, learn more about Daniel in his words including his Cornell story, how he has grown since arriving on campus, the inspiration he has found through developing community, and his drive to create a unique space for students to share their authentic voices. 
"In my time at Cornell, I definitely learned that snow boots and thermal pants are essential. They are probably more essential to my learning than my laptop is. Secondly, and more seriously, I really have honed in on what it means to find your niche on this campus. I went from joining close to 10 clubs to narrowing my involvement to what I'm passionate about: public service, criminal justice, and advocacy work. Now I use that as a launching pad for me to make a difference, and to connect with others that have similar interests. 
When I look back at how fast the years are passing it makes me sad, but also grateful to have met people from all walks of life, and from literally all around this globe. My hope is that I can continue to try new things and get outside of my comfort zone as I go into my senior year. I learned fairly quickly that while I did come here to get an education, it's ok to take a look around and enjoy the beauty of our city, and more importantly the people that are around me. Truly every moment is fleeting, so I learned to take advantage of it."
The experiences at Cornell that have made the most impact on Daniel are having the opportunity to come in as a freshman and be matched with a mentor through his pre-law fraternity and getting the chance to become a mentor himself. 
"Coming into my pre-law frat, KAPi, I have a "BIG" (parent/big sister) and her name is Forest-Amber '21. She is the person who I can lean on about law school, career, classes, and she takes me literally anywhere I want to go. Often times, I was afraid that coming to a big campus would make me feel isolated. However, to the contrary, I feel more connected on a 20,000-person campus, than I have at some 1,000-person schools I've attended growing up. For me, that says a lot. 
Secondly, being able to mentor others has been a tremendous blessing while being on the Hill. I now have "twins" in KAPi, and numerous other ILRies, little brothers and sisters across campus, that look to me for support, advice, and taking the little I know and transmitting it to them has made an indelible mark on my life. We truly talk about it all — fears, insecurities, successes, trumps, and can have honest conversations about their growth."
Daniel went to a boarding school in Massachusetts for the last 3 years of high school. While there, his school hosted a TedX event, and although people encouraged him to apply, he never did. "After getting to Cornell, and with some encouragement from one of my friends and peers named Alina, I decided to finally give my own talk at the TedX Cornell event. The preparation was so transformative, and it forced me to be introspective about my growing up in a small town, being raised in public school, being black and from the South, all while having big city dreams. At points I wanted to truly throw in the towel, but I gave a talk this spring entitled "Why You Should Never Tell A Black Kid They Act White". Truly, I can say my inspiration to take on this project came from the risk-taking peers that surround me. While some say "What's the worst that could happen?" is a bad rationale for doing something, it was that nudge from my confidantes that inspired me to do something new."
Outside of the classroom, Daniel serves as President of ILR Student Government Association, VP of Public Relations for MILRSO, a minority student org within ILR, brother in Kappa Alpha Pi (pre-law fraternity), and a mentor for Students for Students. 
"Most importantly, the joy of my life is being the Host & Creator of a podcast & radio show called Black Voices on the Hill WVBR 93.5 FM, airing and releasing new episodes weekly on all podcast platforms and YouTube.
Largely, I created the show in response to the deaths of Breonna Taylor, George Floyd, and Ahmaud Arbery. I believed that we not only needed a space to highlight black trauma and activism, but also the immense black excellence at Cornell, in greater Ithaca, and beyond. I was approached in Summer of 2020 by WVBR associate and friend, Mike, about creating a show that feature student voices. I went to the drawing board and developed the vision, mission, brand for a new show, and Black Voices on the Hill was birthed as a result. 
Almost daily I get either DM's, text messages, comments, or e-mails from alumni, current students, and those in different parts of the country saying that they are listening to my podcast and it has been causing them to do introspect work, whether that's checking their biases, getting more involved in their community, or just encouragement as well. Currently, we are in preparation to launch a scholarship for black seniors going to college as a form of the podcast & radio show to have outreach as well. 
My goals for this show are simply as how I state in the intro of every show: "Black Voices on the Hill is a podcast and radio show for the culture that centers black lives, amplifies black stories, and enhances the black experience at Cornell, greater Ithaca, and beyond." Moreover, our vision is to make Cornell and administration aware of the black plight as well just the great black students that are leading the way on Cornell's campus. 
In just 7 months, we have been able to garner a consistent and credible following and audience on our Instagram, with a lot of engagement from people across Cornell. Guest wise, I started off just picking from Cornell community, but now we have launched into Ithaca, and even beyond, with faces from the halls of U.S. Congress now gracing the show with their presence. Whereas we started off as only a podcast and radio platform, we have launched into the YouTube world, and now people who have been begging to watch full episodes can do so. When I first started out, I used to send out my questions way in advance, and was somewhat anxious always. I've definitely gotten more comfortable knowing what questions to ask without a formal outline always. Since I also do all of my graphics, I have an enormous appreciation for those that do graphic design. It has truly been a steep learning curve. Finally, I believe that personally, I truly listen better to what others have to say even in daily conversation, because I interview people so much. I engage more authentically with people I don't even, which is remarkable in its own way. 
Daniel's biggest takeaway from his show is that at the end of the day, everyone has a story. "Too often though, there are merely some stories that get more sunlight than others. It has been my focus to make sure everyone gets the rays, the spotlight, and the sunshine, and for my platform, that means the amazing black student community at Cornell."
When asked what advice he would you give to a new student at Cornell, Daniel replied, "Know your boundaries, morals, and limits, but do your best to get out of your comfort zone as much as possible. Eat outside, meet new people, and go new places if you are afforded the opportunity. Looking back, the advice I would you give to myself on how to have the best Cornell experience would be "Stop being shy and go say hello. LOL."
Hear more from Daniel as he speaks with Vice President for Student & Campus Life, Ryan Lombardi on the recent episode of Real Talk with Ryan.