Antonia Pellegrini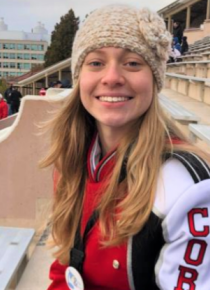 Meet Antonia Pellegrini
Home state: Virginia
College: Arts & Sciences
Major: Biological Sciences
Year: 2023
Spotlight on Mental Health and Wellness
Promoting the health and well-being of all students is foundational for academic and life success. The Student Mental Health Collective works to advocate peer-to-peer discussion in the support and enhancement of student well-being, and reduce the stigma of mental illness.
As part of this discussion, SMHC is speaking to students from across campus to share experiences and helpful tips that support fellow Cornellians and fosters community around collective mental health on campus. This month, we highlight Building Resilience.
What does resilience mean to you?
When I think of resilience I think of working through challenges. Cornell (and also life in general) will have its challenges, and in those moments resilience means tapping into the communities we have and prioritizing self-care practices so that we can feel empowered and capable of facing those challenges. Although challenges can feel uncomfortable, resilience is a wonderful opportunity for growth. 
How have you found community? 
Community is the people or places that I feel safe to be myself. I have been incredibly lucky to find community in various forms throughout campus. One of the first ways I found community was by talking to the people in my classes. It could be as simple as saying hello to the person next to you or forming study groups. Outside of classes, I found community by getting involved with extracurricular activities, such as EARS and the Big Red Marching Band. I also want to highlight that the people you live with, everyone from your roommate to your entire building, can be some of the most formative people you meet since you will be living in the same space.
How do you take care of yourself and your mental health?
It is important to remember that the priority will always be your mental health and wellbeing...then there is school, any jobs, and any other commitments. I would recommend creating a healthy work-life balance early on in the semester. For me this looks like setting aside spaces and times where I am just a human, such as keeping your room a work-free zone. Another way I take care of myself and my mental health is by making sure that I am consistently eating, sleeping, and drinking enough water. Please remember that your brain and body does not function very well if you do not take care of it!
What clubs are you involved in?
The Big Red Marching Band, EARS (Empathy, Assistance & Referral Services), The Steminist Movement
What's your favorite spot-on campus or place to hang out with friends? 
My favorite place on campus is the Ecology House!
This series was developed on recommendations from Cornell's Mental Health Review.
A wide range of supportive resources are available at mentalhealth.cornell.edu for students in need. An Ithaca-based Crisisline is available at 607-272-1616. Students in need of professional mental health support can call Counseling and Psychological Services (CAPS) at 607-255-5155 and employees can call the Faculty and Staff Assistance Program (FSAP) at 607-255-2673.