Anna Wilkins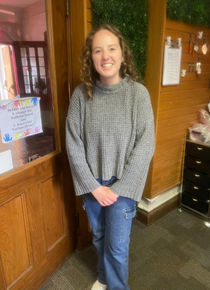 Meet Anna Wilkins
College: Human Ecology
Major: Bachelors, Global and Public Health Sciences
Year: December 2022
Campus employment: Student Manager in the Campus Activities Office
Career Readiness Competencies gained:
Communication
Leadership
Teamwork
Professionalism
Students work at campus jobs and internships ranging from office support to peer advisor to intramural referee -- many of which are hosted within Student & Campus Life. In the interview below, learn more about Anna Wilkins, who serves as a student manager at the Campus Activities Office.
Out of all the opportunities on campus, why did you choose this one?
I believe that community building is fundamental to creating a positive culture at Cornell. Because of this, the work that Campus Activities does is deeply meaningful to me. I love the opportunity to create connection on campus and to support students as they pursue the things they are most passionate about.
Describe some of your responsibilities.
I help the Campus Activities team to support Cornell's 1000+ student organizations. I also assist with events on campus such as ClubFest, Movies on the Arts Quad, and Slope Day. Furthermore, as the student manager, I am responsible for supporting our student team by scheduling, leading team meetings, and checking in regularly.
What skills have you developed in your campus job?
Communication: In order to be able to effectively help students navigate their needs from our office, I have had to ensure that I am communicating effectively and being detail-oriented in my responses. It is important that students feel heard and understood when they come into our office, so I make sure that I am taking the time to listen and truly address any needs they may have.
Leadership: As the student manager, I have had the opportunity to help lead our amazing student team! I have been able to run our meetings, ensure that all team members have the resources they need to be successful, and create our office schedule.
Teamwork: Working with the other student staff and with the rest of the Campus Activities team, I have had the opportunity to hone my teamwork skills. Managing so many student organizations and putting on such large events takes collaboration, and one of my favorite parts of my job has been getting to work with such great people.
Professionalism: When working with others, it is important to maintain professionalism. This job has helped me to grow those skills, as I have had the opportunity to interact with many in the Cornell community, giving me experience behaving professionally. I always want to represent the office well in my behavior and interactions and that has been key to my professional growth. 
What's come out of your position that most surprised you?
I have been surprised by how applicable this job is to other parts of my life. I am often relating things in my academic or personal life to my work in the office and feel that it has made an impact on the way that I approach tasks. Also, the people that I've gotten to work with have been amazing!
What experience or skills have you developed that you feel will help you down the road in your career?
I feel that my biggest takeaway from this experience has been to be willing to try new things. I had never been involved in anything like this before I joined Campus Activities but everyone was so willing to teach me the ropes. Because this has been such a positive experience, it makes me more excited about jumping into new challenges in the future.
What advice do you have for other students interested in an on-campus job?
Don't be afraid to try something new! Pursuing an on-campus job that was entirely outside my major allowed me to learn so many new things and meet amazing people. It also helped to make Cornell feel smaller and made me feel more connected to our campus community.