Syrielle Clement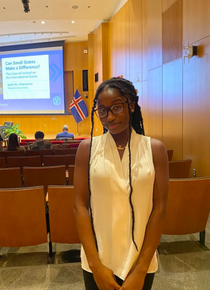 Meet Syrielle Clement
Hometown: South Florida/ Port-au-Prince, Haiti
College: College of Arts and Sciences
Major: Sociology
Year: 2023
Spotlight on Mental Health and Wellness
Promoting the health and well-being of all students is foundational for academic and life success. The Student Mental Health Collective works to advocate peer-to-peer discussion in the support and enhancement of student well-being, and reduce the stigma of mental illness.
As part of this discussion, SMHC is speaking to students from across campus to share experiences and helpful tips that support fellow Cornellians and fosters community around collective mental health on campus.
What does emotional wellness mean to you? Why is it important?
To me, emotional wellness is the ability to be happy with the life that you've cultivated for yourself while being okay with the fact that it may not be perfect. It's also about being able to manage negative emotions in a healthy manner. It looks like being patient with yourself, especially on bad days. I think it's important to pay attention to your emotional wellness because it manifests in the way you treat yourself and others. Lacking emotional wellness in my life looked like isolating myself from loved ones, comparing myself to others, and low self-esteem and self-worth. When I made my mental health a priority, it really benefited every area of my life. I noticed that I was able to be a more forgiving and kinder friend because that's the relationship I now had with myself. I began to be more intentional about the things I surrounded myself with, noting how they made me feel and whether they were beneficial to me. All in all, we should all prioritize our emotional wellness because it plays a large part in defining your relationship with yourself and those around you. I have to give credit to Club Resilient at Saint Louis University, the first mental health club I ever joined, for being the first group to make me so aware of my mental health.
My freshman year of college was particularly difficult because I lacked a proper support system to rely on in this transitionary period. At the beginning of the second semester, I joined Club Resilient because of Audrey Williams, a close friend of mine. I can still recall how welcomed and safe I felt during our first meeting. It was easily one of my favorite clubs because it not only gave me the proper language to describe how I felt, but it also gave me tangible and healthy ways to process these emotions. At Cornell, I've been able to continue this with my involvement in B.O.S.S' (Building Ourselves through Sisterhood and Service) Mental Health Summit. B.O.S.S has been particularly helpful because it's focused on people of color. Our conversations about topics, such as being a POC at a PWI, have helped validate my emotions and see just how many people were going through the same thing. These support groups have been a strong essential in taking care of my mental health and I'm so proud to have been a part of them!
What advice would you give your freshman self about taking care of your emotional health? How has taking care of yourself changed while at Cornell?
To my freshman year self, I would advise you to follow these three gems. First, take note of the things that drain you and remove yourself from those situations immediately. The reason you consistently feel bad around certain people or activities is not by chance; you're better off stepping away. Even if that means being alone for a while. Even if it's confusing or scary. You need to follow your gut when something or someone doesn't feel right for you. You'll be just fine without that person or thing and chances are you need to let go of it in order to grow.
Second, relinquish the need to explain yourself to others. Many of the decisions you'll make will not make sense to those around you and that's okay. Most of the time, other people's opinions are based on their own projections or small ideas of who they think you are. You are the only person that knows yourself fully. You are the highest authority on your life, so make these decisions unapologetically. The choices you make might not make sense to others, but if you know it's the best thing for you then that is okay.
Lastly, stop being so hard on yourself and know that who you are currently is enough. You do not need to constantly compare yourself with your peers to identify the ways that you can be better. This silent competition is harmful and only breeds resentment. You should only be focusing on yourself and seeing whether you're closer to who you want to be. This advice does not stop at freshman year, these are things I continue to tell myself to this day. My emotional well-being has benefited greatly from surrounding myself with people and activities that fulfill me, ignoring others opinions about my life choices, and understanding that who I am now is just as worthy as who I strive to be.
Mental health is like physical health. What are habits that you've adopted in your student life to take care of yourself?
My parents gave me my first journal when I was around 6 or 7 years old and it's become a part of my mental health routine since then. I don't think a year has gone by where I haven't journaled my thoughts in one way or another. This habit has been more frequent in college, especially with the difficult transition to college during my freshman year. More often than not I've turned to journaling whenever I've been overwhelmed or stressed. I can't quite explain why but writing every single emotion I am feeling at the moment onto paper always makes me feel better afterwards. I physically feel lighter when the words are no longer taking up space in my mind and are on paper instead.
In addition, I also make sure to document the positive and joyous moments in my life. I actually have a second journal dedicated to writing what I am grateful for. When I first began being more attentive to what I wanted to include in this gratitude journal, I kept things pretty basic, noting that I was thankful for things like family, friends, and education. Now, I make sure to be very specific and intentional in what I include. Rather than keeping things broad, I go into detail about events and people, what they mean to me, and why I'm grateful that they are a part of my life. Because I don't always have my journals readily available, I try to make mental note of these feelings in other ways as well. Most commonly, I love to walk around campus or back to my apartment with no music on to really get a chance to spend time with my thoughts and check in with myself. It's very therapeutic and it helps the most when I'm feeling overwhelmed or conflicted.
What clubs are you involved in?
Building Ourselves Through Sisterhood and Service, B.O.S.S (Mental Health Summit Co-Chair) Haitian Students Association (Co-President) Black Students United (Co-Treasurer) Caribbean Students Association (VP of Public Relations) Convocation Committee (Speaker Selection Sub-Committee) Cornell's Caribbean Student Association Dance Ensemble, CCSADE (Treasurer)
What's your favorite spot on-campus or place to hang out with friends?
When it's warm out, I love to hangout on the slope!
This series was developed on recommendations from Cornell's Mental Health Review. 
A wide range of supportive resources are available at mentalhealth.cornell.edu for students in need. An Ithaca-based Crisisline is available at 607-272-1616. Students in need of professional mental health support can call Counseling and Psychological Services (CAPS) at 607-255-5155 and employees can call the Faculty and Staff Assistance Program (FSAP) at 607-255-2673.