Mar'Quon Frederick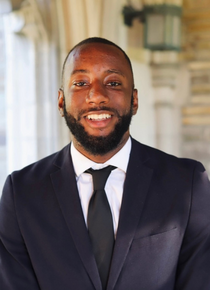 Meet Mar'Quon Frederick
Hometown: Chester, Virginia
College: Arts and Sciences
Major: Government
Year: 2024
Spotlight on Mental Health and Wellness
Promoting the health and well-being of all students is foundational for academic and life success. The Student Mental Health Collective works to advocate peer-to-peer discussion in the support and enhancement of student well-being, and reduce the stigma of mental illness.
As part of this discussion, SMHC is speaking to students from across campus to share experiences and helpful tips that support fellow Cornellians and fosters community around collective mental health on campus.
What advice would you give your freshman self about taking care of your emotional health? How has taking care of yourself changed while at Cornell?
During my freshman year of college, I suffered from imposter syndrome. Having to navigate elite spaces feeling under prepared and underrepresented really made me feel anxious and vulnerable. In an effort to overcome those feelings, I remember working extremely hard to compensate for what I perceived to be weaknesses. The moment I stepped foot on campus, I joined all sorts of clubs,professional development workshops, and conducted independent research to arm myself with the knowledge and insight that I felt that I lacked. I spent many nights working when I knew I should have been resting. At the time, I thought that it was just the norm. I figured that I was promoting my emotional well-being by working to reduce my anxiety through almost constant studying and professional experience.
In hindsight, I can identify that there are healthier ways to promote my emotional well-being. The first step in doing so was accepting who I was for who I was; coming to terms with the cards that I was dealt; and ceasing the comparisons I was making with some of my peers. For students of color in elite spaces, there is almost an unhealthy fixation on success given the obligation we feel to make right for the sacrifices our parents have made and to make our communities back home more equitable. I would tell my freshman self to fall back and trust the process. Promoting my emotional well-being was realizing that the only thing I was obligated to do was to make the most of my college experience for myself—to fall in love with the process of growth rather than being fixated with the prospect of success. Emotional well-being is doing what I love alongside the people that I love and making the most of my experiences. It is also practicing good habits, limiting distractions, and accepting myself for what I am and what I am not. As I continue to navigate elite spaces, I am sure my imposter syndrome will be triggered at some point. However, I will look at it as a privilege in that I am stepping out of my comfort zone and making an effort to advance myself.
Mental health is like physical health. What are habits that you've adopted in your student life to take care of yourself?
As cliche as it may sound, the greatest habit that I adopted to take better care of myself is putting myself first. I have decided to do what makes me happy and begin saying no to the things that I do not have the capacity to do. Oftentimes, you feel obligated as a student leader to do certain things out of fear that the ship will sink because no one else is willing to do it. The bottom line is that someone will, and the show must go on. I know several student leaders who do more than their fair share and do not have other people to rely on when they need consistency and support. What I would tell them is to contribute their fair share, never more than what they have to do. We spend so much time advocating for others that we sometimes forget how to advocate for ourselves. It should not always be our sole responsibility to run the show. We all deserve to have our boundaries respected and to be able to focus on what we came here for.
Additionally, we all deserve to pursue what makes us happy. For me, I find happiness in roller skating and boxing. There is almost no greater feeling than grooving to some smooth R&B on the rink. Furthermore, I cannot describe how much of a rush I get from participating in combat sports and training for bouts. Going forward, I will continue to pursue what makes me happy unapologetically. Those around me will have no choice but to respect my boundaries.
What helps you manage setbacks? How do you approach the ups and down of college life?
I was once told that setbacks can be a blessing in that they provide us an opportunity to reevaluate our character and goals. There is nothing that provides more clarity into who we are and what we are capable of doing/withstanding than basking in failures and shortcomings. This past semester, I took the most difficult math class that made me constantly question myself. I failed every exam and dreaded going to class. But I persisted. I persisted because I knew that I needed the distribution requirement to graduate. Although I did not get the grade I wanted and struggled all semester, I learned more about myself than I would have ever imagined. I learned that failure can provide you with so much mental toughness that once you learn how to keep composure in unfavorable situations, there is nothing that can stop you.
Additionally, I learned that even when you fail, that failure does not define who you are or who you are capable of becoming. I determine my own success whenever I fail. Despite having a low grade on my transcript, I will not allow that to define me. I will accept the fact that it is a part of my story and use that to my advantage. Both ups and downs are a natural part of our college experience and life stories. But they should never define us.We must use it to our advantage.
What clubs are you involved in?
Black Students United; Scholars Working Ambitiously to Graduate; Boxing Club
What's your favorite spot on-campus or place to hang out with friends?
Olin Library Stacks
This series was developed on recommendations from Cornell's Mental Health Review. 
A wide range of supportive resources are available at mentalhealth.cornell.edu for students in need. An Ithaca-based Crisisline is available at 607-272-1616. Students in need of professional mental health support can call Counseling and Psychological Services (CAPS) at 607-255-5155 and employees can call the Faculty and Staff Assistance Program (FSAP) at 607-255-2673.