Llorenz Meliton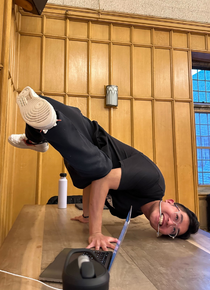 Meet Llorenz Meliton
Hometown: Chicago
College: Arts and Sciences
Major: Math and Computer Science
Year: 2023
Spotlight on Mental Health and Wellness
Promoting the health and well-being of all students is foundational for academic and life success. The Student Mental Health Collective works to advocate peer-to-peer discussion in the support and enhancement of student well-being, and reduce the stigma of mental illness.
As part of this discussion, SMHC is speaking to students from across campus to share experiences and helpful tips that support fellow Cornellians and fosters community around collective mental health on campus.
What does emotional wellness mean to you? Why is it important?
To me, emotional wellness is the continual process of learning to empathize with myself. Emotional wellness means love and acceptance, patience and kindness, healing and protection, as well as resilience and self-awareness. Emotional wellness helps me uplift my communities by allowing me to be the best version of myself. It promotes connection with myself and others through vulnerability and curiosity. Recognizing that my emotions are valid and understanding why I am experiencing them helps me overcome any challenge that comes my way. Mental health is like physical health.
What are habits that you've adopted in your student life to take care of yourself?
Gratitude and mindfulness help me process and plan for my past, present, and future. To me, gratitude is the act of acknowledging and accepting the beauty in everyday situations. At the end of every day, I reflect on at least one thing I'm thankful for that happened that day whether it be events with free food, my friend showing me a new song, or having enough energy to stay awake during class. This helps me see each day as a gift and celebrate small wins even if I had a bad day that day.
To me, mindfulness is awareness of myself, others, and my surroundings. I use grounding to help me notice the present moment through my senses. I ask myself: what are five things that I can see right now, what are four things that I can hear, three things that I can touch, one thing I can smell,and one thing I can taste? I use grounding when I feel emotionally overwhelmed or find myself running on autopilot. By grounding myself through my senses, I can let go of intrusive thoughts and appreciate what is happening around me. By learning to be grateful for small successes and acts of kindness, I can motivate myself to get up in the morning, knowing there is a blessing waiting for me even in difficult situations.
By learning to be mindful even amid chaos, I can enjoy the present moment and create meaningful experiences that might not have existed if I was distracted. Ben Chung of the Kinjaz once told me that in life, there aren't wins and losses—there are only wins and learns. Gratitude and mindfulness help me learn from my mistakes and move forward.
What's your favorite way to spend time just for fun and find joy?
If I could do only one thing for the rest of my life, it would be to dance. Working hard at dance has not only made me stronger physically, but also mentally. I love listening to hip-hop and house music,and dancing in these styles helps me convey what I'm feeling. For example, moving slowly and close to the ground helps me articulate sadness while fast footwork helps me embody confidence. In this way, dancing helps me identify, unpack, and express my emotions through my connection with the music.
I also find joy in dance through community. In every city I've been to, dance has helped me make meaningful connections with strangers and forge lifelong friendships. To me, one's dancing is a reflection of their lived experiences. By watching others dance, I can get a glimpse of who they are;when I dance for others, I can share parts of myself I wouldn't normally be able to share through a conversation. Dancing has always facilitated belonging for me, no matter where I go. I wouldn't be who I am today without dance.
What clubs are you involved in?
BreakFree, LOKO, Posse, CFA, LSC, IDP, EARS
What's your favorite spot on-campus or place to hang out with friends?
Willard Straight Hall 519 😊
This series was developed on recommendations from Cornell's Mental Health Review. 
A wide range of supportive resources are available at mentalhealth.cornell.edu for students in need. An Ithaca-based Crisisline is available at 607-272-1616. Students in need of professional mental health support can call Counseling and Psychological Services (CAPS) at 607-255-5155 and employees can call the Faculty and Staff Assistance Program (FSAP) at 607-255-2673.