Sofia Vaquerano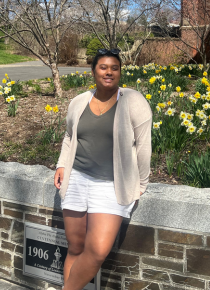 Meet Sofia Vaquerano
Hometown: Mission Viego
College: Arts & Sciences
Major: Biology and Society
Year: 2023
Spotlight on Mental Health and Wellness
Promoting the health and well-being of all students is foundational for academic and life success. The Student Mental Health Collective works to advocate peer-to-peer discussion in the support and enhancement of student well-being, and reduce the stigma of mental illness.As part of this discussion, SMHC is speaking to students from across campus to share experiences and helpful tips that support fellow Cornellians and fosters community around collective mental health on campus.
This month, we highlight Physical Wellness!
What does physical wellness mean to you? Why is it important?
Physical Wellness means being in tune with your body. This includes resting your body, eating meals,and treating it with care. It's it important to me because this is the body I have with me for the rest of my life. For a life of longevity, taking care of it now and building good habits it what motivates me to keep caring for it.
What are your favorite ways to take care of your body?
I love dancing and it's a great way to move my body in a creative way. I also love doing skin care because I struggle with eczema. Ensuring that I moisturize and take care of my skin is very important to me.
In what ways do you see your physical wellness connected to your mental health?
If I feel sluggish with my body, I can sense it carry into my mind. My mind becomes sluggish and I feel tired mentally. My body and my mind are connected so taking care of both is important for me to have the right balance.
Who are your favorite artists to listen to when working out? Do you have any favorite podcasts?
I love listening to Tems, Omar Apollo, and Kali Uchis to relax. While I work out, I listen to Rihanna,Beyoncé, etc.
What are your non-negotiables when taking care of your physical health in college?
For me that's not skipping meals and hydration. Nutrients in my body is really important for me and that's why I try to eat 2 meals a day - I don't eat breakfast (haha). As I dance a lot, I also drink a lot of water and try to finish all the water in water bottle by the end of the day.
How have you created community through physical activity?
Joining BreakFree has made me dance tremendously. Being surrounded by incredible dancers motivates me to be active and create choreography. My dance team inspires me to be active but also mindful of my body through stretches, recovery, and mindfulness
What clubs are you involved in?
BreakFree, Cornell Filipino Association, Cornell Dance Alliance, Residential Student Congress
What's your favorite spot on-campus or place to hang out with friends?
Willard Straight Hall 519
This series was developed on recommendations from Cornell's Mental Health Review. A wide range of supportive resources are available at mentalhealth.cornell.edu for students in need. An Ithaca-based Crisisline is available at 607-272-1616.
Students in need of professional mental health support can call Counseling and Psychological Services (CAPS) at 607-255-5155 and employees can call the Faculty and Staff Assistance Program (FSAP) at 607-255-2673.