Alice Cook House
Housing Location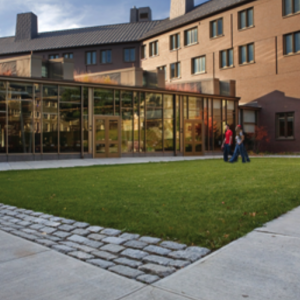 Alice Cook House, Ithaca, NY 14850, USA
Alice Cook House is a part of the West Campus House System, a faculty-led community for upperlevel students on Cornell's west campus.  
Cook House includes a main building with residential rooms and suites, apartments for the House Professor-Dean and Assistant Dean and their families, and a House Office, dining room, library, and other common spaces.  The community also includes the Gothic buildings Baker Tower, North Baker, Boldt Tower, and Boldt Hall/Language House, and 625 University Avenue and 109 McGraw Place across the street. [For 2021 - 2022 Language House will be in North Baker; 625 University Avenue and 109 McGraw Place will not be part of the house.]
For more information about the Cook House community, visit the Alice Cook House website.  For more information about the West Campus community, visit the West Campus House System website.  
Community features: 
Open to transfer and upperlevel students 
About 450 residents, including approximately 120 in the main building and 230 in the Gothic buildings  
Made up of approximately 65% sophomores, 25% juniors, and 10% seniors, with about 15% of the total population being transfer students 
Main building has a House Office, dining room, library, TV lounge, and laundry facilities 
Single, double, triple, and quad rooms along hallways with shared bathrooms, plus 16 five- to seven-person suites, each with its own bathroom and sitting room  
Bedrooms contain, for each occupant: an extra-long twin bed, a closet and a bureau (or wardrobe/bureau combination), a desk and desk chair, a desk lamp, a wastebasket, and floor carpeting 
Wireless Internet access 
Alice Cook House rooms do not have air conditioning. 
Affiliated faculty: 
Professor Shorna Allred  is Cook House's House Professor-Dean. She is Associate Professor, Natural Resources in the College of Agriculture and Life Sciences. Professor Allred lives in the house with her family and helps to lead the community. 
Cook House also has approximately 30 House Fellows who are associated with the community and interact with residents regularly. 
Dining options:
Learn about Cornell Dining's meal plans.
Questions? Contact us. 
Housing Population Type