Language House
Housing Location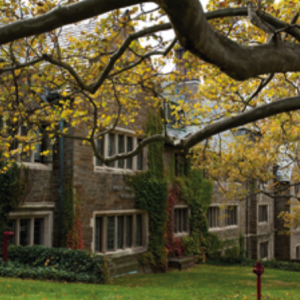 Language House, Ithaca, NY 14850
The Language House, part of the Alice Cook House community in the West Campus House System, is Cornell's language immersion residence.
Living in this unique living-learning community helps students become comfortably fluent in Arabic, French, German, Japanese, Mandarin, and Spanish.
For more information about the program, visit the Language House website.
NOTE: The Language House is not a traditional Program House. It is a part of the West Campus House System, and is only open to upper-level students for 2022-2023. However, starting in 2023-2024 year Language House will be in Toni Morrison Hall.
Community features: 
Open to upper-level students 
50+ residents 
Part of Alice Cook House in the West Campus House System 
Single and double rooms, with shared bathrooms 
TV room; large social lounge with pool table, pinball machine, foosball, and ping pong; piano; lobby with sitting and meeting areas; laundry; kitchen with pantry storage; and a study lounge 
Bedrooms contain, for each occupant: an extra-long twin bed, a closet and a bureau (or wardrobe/bureau combination), a desk and desk chair, a desk lamp, a wastebasket, and floor carpeting 
Wireless Internet access
Language House rooms do not have air conditioning.
To apply for residency: Log in to the Housing Portal and select the Language House application.
Dining options: Residency in the West Campus House System - of which the Language House is part - includes a commitment to a House Meal Plan.
Questions?
For more information, please email housing@cornell.edu.