Just About Music (JAM)
Housing Location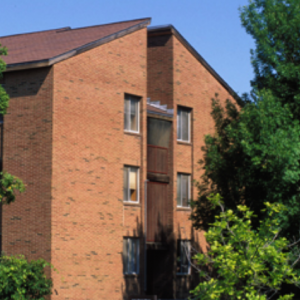 Just About Music, Ithaca, NY 14850
JAM is a music lover's dream home, with countless opportunities to perform, listen, share, and collaborate. Of the 166 students living at JAM, only a handful are music majors, but all share a passion for music - whether they avidly listen to their iPods or actively sing or play an instrument in a band.
The house has a concert stage with lighting and sound, a well-equipped recording studio, practice rooms, and practice instruments (guitar, piano, drums, etc.). Frequent performances by house bands feature everything from rock, punk, and hip-hop, to house. A monthly open-mike coffeehouse enables writers, musicians, singer-songwriters, and dancers to perform for the Cornell community. On the quieter side, there are weekly student-organized Listening Parties, where Jammies sample and discuss every genre you can think of.
There are also many opportunities to perform with campus groups such as the Glee Club, Cornell Chorus, Symphony Orchestra, Wind Ensemble, Jazz Ensembles, the Big Red Marching Band, and other musical groups throughout the Ithaca community.
JAM's practice rooms and recording studio follow regular quiet hours to ensure that residents have an environment conducive to studying and other pursuits.
Explore the JAM community pages in CampusGroups.
Community features:
Open to first-year, transfer, and upperlevel students 
166 residents 
Located on North Campus, near Robert Purcell Community Center and Appel Commons 
Suite-style rooms, with residents of each unit sharing a study room, social lounge, and kitchen 
TV/social lounges, a computer room, study lounge, and a library, plus a concert stage, recording studio, and practice rooms 
Bedrooms contain, for each occupant: an extra-long twin bed, a closet and a bureau (or wardrobe/bureau combination), a desk and desk chair, a desk lamp, a wastebasket, and floor carpeting 
Wireless Internet access
JAM rooms do not have air conditioning.
Program fee:
In addition to the room rate, JAM residents pay a program fee of $70/year to support the many activities and events that define the community.
How to apply for residency:
Application instructions and links can be found at Application Process: New Undergraduate Students and Application Process: Current Undergraduate Students. You will be asked to answer brief essay questions for each community to which you apply.
Faculty Involvement: 
JAM has several Faculty and Community Fellows that provide students with opportunities to explore and cultivate their academic, intellectual, and cultural interests. You will find them attending events in your building, dining with students, and leading on and off campus trips to lectures, plays, films, concerts, and regional points of interest.
Dining options:
Learn about Cornell Dining's meal plans.
Questions?
For more information about JAM, email just_about_music@cornell.edu or call (607) 255-4645.
Housing Population Type