Akwe:kon
Housing Location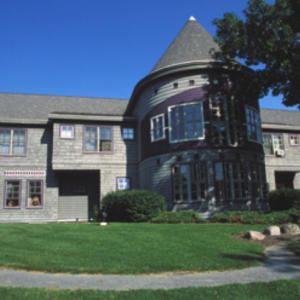 Akwe:kon, Ithaca, NY 14850, USA
Akwe:kon (pronounced uh-GWAY-go) opened its doors in 1991, making it the nation's first university residence hall established to celebrate American Indian culture and heritage. In the Mohawk language, Akwe:kon means "all of us," reflecting the spirit of inclusiveness the house offers to students and the broader community. Akwe:kon's 35 residents represent diverse cultures and backgrounds; roughly half are Native American. Whatever their cultural background or tribal nationality, residents share an interest in past and contemporary Native issues and the importance of community and extended family. 
Throughout the year, Akwe:kon – in conjunction with Cornell's American Indian and Indigenous Studies Program (AIISP) – sponsors activities and programs like the regional Pow Wow and the weeklong Native American Festival, featuring music, art, and dances by participants representing tribes from throughout the U.S. and Canada. Events are open to the public, and enable the whole Cornell community to experience the spirit of Native cultures and traditions. 
Akwe:kon's distinctive building and landscape were designed with extensive input from Native people, incorporating symbols that reflect the theme of communal spirit. 
Explore the Akwe:kon community pages in CampusGroups.
Community features: 
Open to first-year, transfer, and upperlevel students 
35 residents 
Located on North Campus, near Robert Purcell Community Center 
Single and double rooms 
A community multipurpose room, a TV room, a library, two study lounges, a kitchen, and a computer room 
Bedrooms contain, for each occupant: an extra-long twin bed, a closet and a bureau (or wardrobe/bureau combination), a desk and desk chair, a desk lamp, a wastebasket, and floor carpeting 
Wireless Internet access 
Akwe:kon rooms do not have air conditioning. 
Faculty involvement: 
Akwe:kon has several Faculty and Community Fellows that provide students with opportunities to explore and cultivate their academic, intellectual, and cultural interests. You will find them attending events in your building, dining with students, and leading on and off campus trips to lectures, plays, films, concerts, and regional points of interest. 
How to apply for residency: 
Application instructions and links can be found at Application Process: New Undergraduate Students and Application Process: Current Undergraduate Students. You will be asked to answer brief essay questions for each community to which you apply.
Dining options:
Learn about Cornell Dining's meal plans.
Questions?
For more information about Akwe:kon, call (607) 255-0652 or email akwe:kon@cornell.edu. 
Learn more information about the American Indian Program, call (607) 255-6587, email aipoffice@cornell.edu.