McGraw Place Residences
Housing Location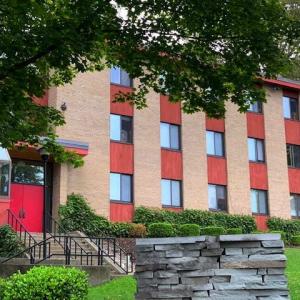 McGraw Pl, Ithaca, NY 14850, USA
Upperlevel students have the option to live in one of the houses on McGraw Place, adjacent to West Campus.
109 McGraw Place, the former Sigma Phi Epsilon fraternity house, also houses the Cornell Food Pantry, which helps to address food security on campus. Built in 1965, this tan brick modern lodge has projecting balconies, a deep cornice, and windows separated by brick pilasters and dark panels.
118 McGraw Place is the former Phi Gamma Delta fraternity house. Distinctive features include the pilaster-framed entrance in a projective entrance hall topped by a triangular pediment and bull's-eye window, the projecting side pavilions, and the pitched roof with dormers and tall chimneys.
Formerly home to the Sigma Alpha Epsilon fraternity, 122 McGraw Place is a beautiful Tudor house featuring an expansive first-floor living room and TV room with hardwood floors, comfortable furniture, and a billiards table. 
Community Features
Open to transfer and upper-level students
Located adjacent to West Campus
Mail and packages:
Visit the Service Center website for student mail and package information.
Dining Options
Sign up for one of Cornell Dining's Traditional Meal Plan options if you plan to eat all or most meals on campus (includes Cornell Dining's dining rooms, West Campus Dining Rooms, and retail dining facilities) 
Use City Bucks for cashless food purchases if you plan to eat some or all meals at off-campus establishments (you may use City Bucks in addition to, or instead of, a meal plan) 
Note that second-year students must maintain a Bear Unlimited or Bear Traditional meal plan as part of Cornell's two-year residence and dining requirement.
Learn about Cornell Dining's meal plans. Questions? Contact us. 
Questions?