Oliver Goodrich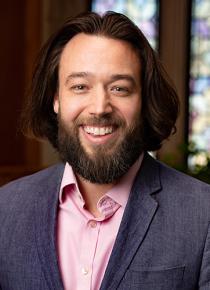 Associate Dean for Spirituality and Meaning Making, Director, CURW
Oliver serves as the Associate Dean for Spirituality and Meaning Making and Director of Cornell United Religious Work providing leadership for the growth of dynamic interfaith, spiritual, and meaning making programs. Additionally, he provides oversight and support to Cornell United Religious Work, Cornell's long-running chaplaincy program that facilitates the campus engagement and community building of 24 spiritual and faith leaders.
Oliver earned his B.M. in Voice Performance from Gordon College and his M.Ed. in Religious Education from Boston College. Prior to Cornell, Oliver was the Faith Formation Campus Minister at Loyola University Chicago, where he was instrumental in building a vibrant community of faith-sharing groups and developing popular multifaith retreat opportunities for students. He has held numerous other positions in student leadership development, first year experience, and music ministry.
Oliver is an avid runner and is tackling a personal goal of running a marathon in every state. When not running, Oliver can be found singing, cooking, bird-watching, and spending time with his partner, Will and their dog, Shadow.