Talia Bailes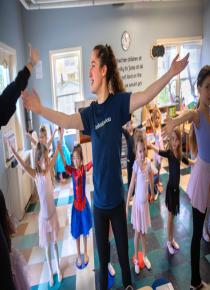 Meet Talia Bailes
Hometown: Cincinnati, OH
College: College of Human Ecology
Major: Global and Public Health Sciences
Year: 2020
Ballet and Books, a program organized by Talia Bailes '20, who's studying global and public health sciences in the College of Human Ecology, aims to boost literacy among children from pre-K through third grade. Before coming to Cornell, Bailes danced and taught during high school, and then spent a year after high school teaching young students in Ecuador. She came back interested in child development and literacy, so she worked in a pediatrician's lab in her hometown of Cincinnati, Ohio, where she learned more about how literacy, race, poverty and other factors affected children's health.
"I really believe in community engagement so when I came to Cornell, I was looking for ways to get involved and I started working with Southside," she said. "I wondered how I could be an agent of change and combine the development of children's minds with dance." Talia has served as a Pre-Orientation Service Trip (POST) Leader and received a Robinson-Appel award in 2017 for her Ballet and Books program. Both of these programs are supported by the Public Service Center, a unit of Student & Campus Life.
Read more about Talia and her Ballet and Books program in this Cornell Chronicle article.