Christopher Bland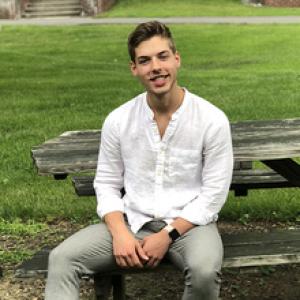 Meet Chistopher Bland
Hometown: Clarksville, TN
College: Arts & Sciences
Major: Government
Year: 2020
First-generation students self-identify as being the first person in their family to attend a four-year college or university. At Cornell, I have found support in an amazing network of my upperclassmen peers who offered me guidance. I was lucky enough to have a first-generation RA my freshman year who showed me the resources available to first gen students. She connected me with other students and faculty who understand the struggles associated with being first gen as well as low income. Together we have been able to make up for not having parents who understand the process of attending college.
I am motivated by each and every student who finds a way to bounce back from a difficult freshman year here at Cornell. Low income is generally associated with being first gen, which usually is accompanied by a previous school system that did not prepare us for the rigor of Cornell. As a result, we need an adjustment period to figure out how to succeed here and "belong." My favorite stories are when people discuss how they struggled their freshman year, but with help from our community, they were able to bounce back and find their rhythm. I grew up in a small town in Tennessee outside of Nashville. I did not know much about Cornell, but I knew that I wanted to come here. The brochures, online stories, and websites made it seem like the perfect place to figure out who I will be away from home. I wasn't able to see the campus until after the commitment deadline like many other low income and first gen students.
After starting my third year, I wish that I could go back and tell freshman-year-me that Cornell does get better. Classes become more manageable, home sickness is easier to cope with, and the networks you build reveal that you will have life long friendships after college is over. I am currently an RA on north campus so I can share my story, as well as provide support for other first gen students that come to Cornell with high hopes and big dreams. The beauty of being first gen is that none of us have the same story, but we use them to empower and motivate each other to do our very best.