Brendon Gauthier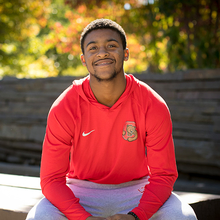 Meet Brendon Gauthier
Hometown: Opelousas, Louisiana
College: Agriculture and Life Sciences
Major: Animal Science
Year: 2021

Graduating high school with a 4.0 GPA while juggling sports and mentoring responsibilities, Brendon Gauthier was already a shoo-in to be accepted at any number of outstanding universities, but he was dedicated to attending Cornell.
In December 2016, surrounded by classmates, he sat trembling behind a computer at TM Landry College Prep in Breaux Bridge, La., as they captured the moment when Gauthier learned that he had been accepted as an undergraduate student at the College of Agriculture and Life Sciences. His joyous reaction went viral, and soon thousands of complete strangers were celebrating with him.
"Growing up in a very rural part of Louisiana, I didn't have many collegiate role models," said Gauthier. "I remember watching movies that included characters who attended Ivy league institutions and thinking 'Why can't I be a student there?' It took a lot of determination and hard work, but I love being here."
Raised in a farming community, Gauthier had a natural curiosity about animals and was drawn to Cornell for its animal science and veterinary programs.
"I always wanted to learn more about animals," he said. "What makes them tick? How do they communicate, vocalize, or move?"
He remembers being captivated by 'Vet School,' a program on National Geographic, that was shot at Cornell's College of Veterinary Medicine. "The show had a big influence on me. Over time, I realized that I wanted to do more than just understand animals, I wanted to help them," said Gauthier. "I also wanted to experience the sense of collaboration that Cornell vet students have with their professors."
Nearing the halfway mark of his first semester, Gauthier said, "I love the way that we are challenged to think critically, and the collaboration between faculty and students. Everyone here is striving for excellence."
While Gauthier remains focused in the classroom, he was also drawn to Cornell for its sense of community, commitment to diversity and founding ideology of Ezra Cornell.
"To say that 'Any person can find instruction in any study,' that was key for me," he said. "I'm all about unity and bringing everyone together to find the best possible goals and solutions that we can achieve."