Kyle Schillace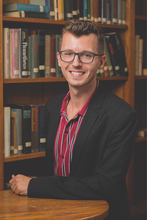 Assistant Director, Campus Activities
526 Willard Straight Hall
Kyle is an Assistant Director for Campus Activities. Kyle's work focuses on advising Class Councils '22 and '23, the CUTonight Commission, and the Senior Convocation committee. He also oversees the Class Council Bus Program and assists with student leadership training and workshops.
Prior to this role, Kyle has served in multiple roles here at Cornell. He has served as the Area Coordinator for the South Campus residential communities (Cascadilla Hall, Sheldon Court, 112 Edgemoor, Schuyler House, and the Equity & Engagement Community), the Residence Hall Director for the Just About Music (JAM) Program House on North Campus, and worked as a liaison in New Student Programs with planning New Student Orientation. He has also volunteered during Senior Days, Convocation, and commencement events. He is currently a staff advisor for the Cornell Gamma chapter of Alpha Phi Omega.
Kyle is very excited to engage with students in a unique way through Campus Activities, and understands the important role student leadership opportunities play in a student's experience and growth. There is so much to learn during your time in college outside of the classroom!
Kyle received his B.A. in Sociology from the State University of New York at Geneseo in Geneseo, NY, and his M.S. in Higher Education and Student Affairs Administration from Canisius College in Buffalo, NY.
In his free time, Kyle enjoys exploring the nature around Ithaca, frolicking around with his dog, Cedric, playing board/video games, and reading books.