Kyle Schillace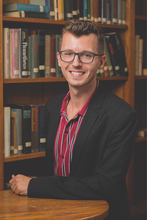 Assistant Director, Campus Activities
526 Willard Straight Hall
Kyle is an Assistant Director for Campus Activities. Kyle is the advisor for our four Class Councils, the CUTonight Commission, Senior Convocation, and Senior Days. He is also an advisor for Alpha Phi Omega.
Kyle has been involved with Cornell for over five years. He has served as the Area Coordinator for the South Campus residential communities (Cascadilla Hall, Sheldon Court, 112 Edgemoor, Schuyler House, and the Equity & Engagement Community), the Residence Hall Director for the Just About Music (JAM) Program House on North Campus, a liaison in New Student Programs with planning New Student Orientation, and was a hall director in Donlon Hall for the Summer College Program in 2015. 
Kyle is excited to work with students in a unique way through Campus Activities, and understands the important role student organizations and events play in the college experience. He is here to help you and your organizations succeed.
Kyle received his B.A. in Sociology from the State University of New York at Geneseo in Geneseo, NY, and his M.S. in Higher Education and Student Affairs Administration from Canisius College in Buffalo, NY.
In his free time, Kyle enjoys exploring the nature around Ithaca, frolicking around with his dog, Cedric, playing board/video games, and reading books.