Kyle Schillace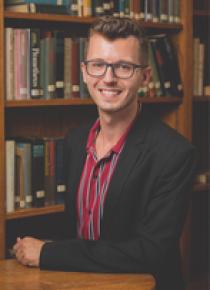 Associate Director, Campus Activities
526 Willard Straight Hall
Kyle (he/him) is the Associate Director for Campus Activities. He is happy to support student organizations, event planning, and other parts of the student experience. He is the staff advisor for our four Class Councils, the CU Tonight Funding Commission, Senior Convocation, and Senior Days. He is also an advisor for Alpha Phi Omega. 
Kyle worked at Cornell in other roles prior to moving to Campus Activities in 2019. He was the Area Coordinator for the South Campus residential communities, the Residence Hall Director in Just About Music Program House (JAM), and supported first-year and transfer orientations with New Student Programs.
Kyle received his B.A. in Sociology from SUNY Geneseo in Geneseo, NY and his M.S. in Higher Education & Student Affairs Administration from Canisius College in Buffalo, NY.
In his free time, Kyle enjoys exploring the nature around Ithaca, cuddling with his dog Cedric while making his way through watching his extensive list of Netflix shows, and spending a lot of time playing Animal Crossing.