Mar Pérez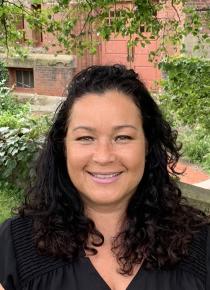 Senior Coordinator
Mar is a Senior Coordinator in the Care and Crisis Services and Crisis Management Team. She manages aspects of cross-functional coordination, information systems management, and logistics for crisis management and community support teams. She represents the Dean of Students Office at the Alcohol and Other Drugs (AOD) weekly meetings.  Mar also participates in strategic planning for public relations and marketing functions in the Care and Crisis Service Team.
Born in Queens, New York to Venezuelan parents, she has an education in Visual Communications and Graphic Design with specializations in Fine Arts. After graduating in Caracas, Venezuela; Mar lived in Madrid, Spain studying fine art, photography, and experiencing many diverse cultures! She is grateful to have family who spanned the globe and her life experiences of living and visiting so many places has only deepened her appreciation of the arts, and how it can be a vehicle to empower and strengthen communities to express universal feelings of connection, inclusion and of social engagement across cultures.
Mar's professional background expands 20 years at Cornell; prior to working in the Dean of Students Office she worked at the American Indian and Indigenous Studies Program (AIISP), and in the Cornell Alumni-Student Mentoring Program. She was also a speaker at the annual "Soup and Hope" speaker series. As an active Ithaca community member, Mar serves in the boards of Radiant Living School at Yoga Farm and in the Community School of Music and Arts (CSMA). She's also participated in community plays by Civic Ensemble Theater Company, and curating exhibitions for the Latino Studies Program Cultura!. Mar's support for a truly inclusive world infuses both her professional and personal life.
Sharing her life with her husband and two children, Mar enjoys spending time with family and friends, photography, yoga, art, nature, music and theater. You can also find Mar volunteering at the Tower Gate during Slope Day, taking pictures at the Cornell Botanical Gardens, walking around Beebe Lake and enjoying the beautiful Ithaca landscape with her children.