Reba McCutcheon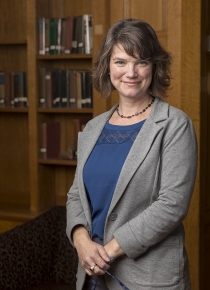 Associate Dean of Students
Reba is Associate Dean of Students, Care and Crisis Services, serving as a Senior member of the Crisis Management Team. She oversees the Community Support Team, advises Cornell Minds Matter, supports students whom have returned from a leave, and serves in an advisory capacity for both Body Positive Cornell and Nature RX. Reba has presented at national conferences such as CIVSA and IVY+ and holds memberships with NASPA, ACHA, and NAMI.
Before transferring to Cornell, Reba earned her associate degree at Corning Community College where she studied English and psychology. After graduating from Cornell (CALS '96), Reba served with AmeriCorps National Community Conservation Corps in the Southeast region of the US. A longtime supporter of live music, she moved back to Ithaca in 1998 where live, local music abounds. Today, she shares her life with her spouse and son and enjoys family time, exploring nature, yoga, baking, cycling, and of course music!
Reba's professional background includes over 20 years at Cornell where she started in the Division of University Relations (Government Affairs, University Photography, and Campus Information and Visitor Relations). Before taking her current role in the Dean of Students Office, she worked as an admissions officer for over a decade, advising student groups and coordinating yield events. As a Cornellian, some of her favorite events include Dragon Day, Slope Day, Senior Week, and Mental Health Awareness Week.