Massimo Carbone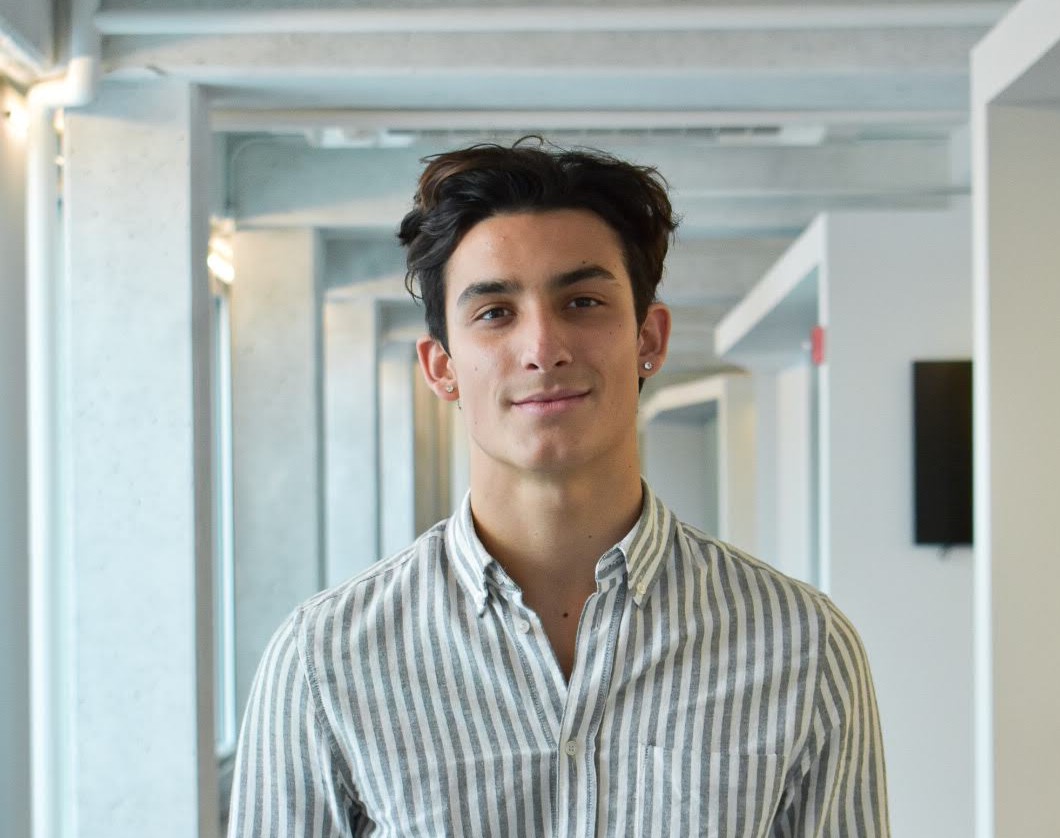 Meet Massimo Carbone
Hometown: San Diego, California
College: Engineering
Major: Information Science
Year: 2022
Massimo is a junior from San Diego, California studying Information Science in the College of Engineering. Part of Massimo's decision to come to Cornell was because he wanted a new experience. Aside from being interested in Cornell's Engineering program, Massimo was drawn to the City of Ithaca, sharing that he thinks it's a "really cool place", even when it snows!
In addition to being a full-time student, Massimo is heavily involved in a variety of campus groups. One of the first groups he joined was Skateboarding Club, followed by a social fraternity, and an Engineering fraternity. Massimo is also on the project team Engineers for a Sustainable World. In this role, Massimo is responsible for building the electrical components in a hydro turbine installed in Cascadilla Creek, a gorge trail located in the heart of Ithaca. As a member of the Cornell Tradition Student Advisory Committee (SAC), Massimo has been hosting "Ask an SAC" office hours over zoom as a method to promote a sense of connectivity with other Fellows. The office hours were set up to provide a virtual space where Fellows can reach out to SAC members to discuss program specific questions and concerns. Massimo also co-hosts various Zoom socials with the other SAC members to help keep the lines of communication open with Tradition Fellows.
When reflecting on his favorite Cornell memory, Massimo shared that as an incoming freshman, he enjoyed the orientation events as they gave him the opportunity to explore the campus and meet new people. He also recalled volunteering at the Homecoming 5k, a fun run that the Cornell Tradition co-sponsored with Alumni Affairs and Development. He mentioned that he was partnered with another volunteer at the event and they've been close friends ever since. "At first, Cornell feels like such a big place, but you have a community in place where there's other like-minded individuals that you can interact with. So it felt really comforting to right out of the gate belong to an organization when you are coming in as a freshman."
When Massimo was asked to give advice to new Fellows, his response was to join as many organizations as possible! He explained that by having a variety of organizations to be involved with that you aren't limiting yourself and you become exposed to different people and perspectives. "The Cornell community is so rich in and of itself, there's so many little niches for everybody."
Massimo made the decision to return to Ithaca this fall to resume his coursework via Cornell's hybrid learning model. As the weather is turning colder in Ithaca, Massimo admits that he misses the warmer climates back at home where he can surf and hang out at the local beaches. Of course, there are friends and family that he misses too, but he shared that Cornell has become his second home. "The sense of having my own independence, being on campus, and having my own thing—being a college student is really great."
Massimo loves music and the arts.  As an Engineering student and an active Tradition Fellow, it can be hard for him to find time for a creative outlet. He shared that if he had any extra free time in his schedule, he would use it to learn a new language or learn to play a new instrument.
If Massimo could ask any alum a question he responded with "if you could do something different in your undergraduate career, what would it be?" This is a typical question that Massimo would ask when he worked on the Cornell Annual Fund. He shared that he likes hearing alumni experiences at Cornell and the things that they wish they could have done. Hopefully, Massimo can accomplish all of the things his predecessors missed out on during the remainder of his time at Cornell.