Amaris Richardson-Minor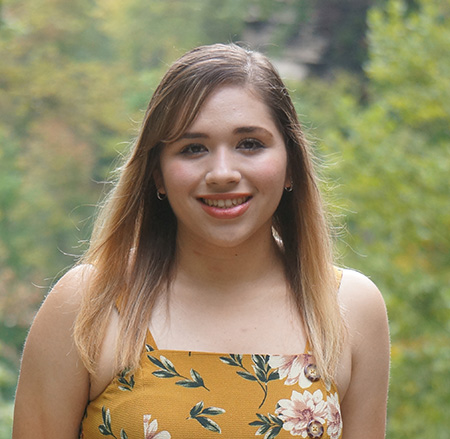 Meet Amaris Richardson-Minor
Hometown: El Paso, Texas
College: Arts and Sciences
Major: Performing and Media Arts
Year: 2021

Amaris is a senior from El Paso, Texas studying Performing and Media Arts in the College of Arts and Sciences. Amaris' decision to come to Cornell was based on wanting to expand personally. She wanted  to be an example to her peers to pursue new and sometimes uncomfortable opportunities. Amaris learned  she was accepted two weeks prior to Regular Decision. The communications she received from Cornell made her feel special -  she felt recognized for her hard work outside of academia. To add to the excitement of attending Cornell, Amaris was also accepted into the Meinig Family Cornell National Scholars (MFCNS) program because of her leadership efforts during her high school years.
"I feel blessed to be in this program because it reminds me that I am a leader, even if I'm not doing things that I think are as incredible as what I did in high school," Amaris said. "Everyhting I accomplished then is still a part of who I am. Just because the circumstances don't always allow me to establish activities like I did before, that doesn't mean I won't in the future."
Currently, Amaris studies remotely at her El Paso home, but still remains active in her roles as an MFCNS Executive Board member, an MFCNS Peer Mentoring Liaison, the Public Relations Chair for Cornell Ambassadors for Media & Performance (CAMP), a writer and editor for Slope Magazine, and a Communications Assistant for the College of Arts and Sciences. As an E-Board member, Amaris is responsible for providing content on the new MFCNS Instagram account, particularly its student spotlights. The account was created to promote connectivity with other Meinig scholars who may feel isolated due to the pandemic. As a result, the Instagram account has enhanced interaction and communication for the student membership.
Despite the extra work involved with being an MFCNS E-Board member, Amaris gave insight as to why the Meinig program is so meaningful to her, specifically on the subject of networking with other leaders.
"I think we all learn over time that networking is key. You can have many skills, but if you don't know how to use your mouth, how to say please and thank you, and how to acknowledge what others have done for you, you're never going to climb the leadership ladder," Amaris said.
When Amaris was asked to give advice to new Meinig Scholars, her response was "depth over breadth." She explained that instead of being mediocre at ten activities, focus on one thing and develop it to the best of your abiltiy. Furthermore, she believes in addition to developing expertise in a particular role, appreciate that there is another expert in that realm and accept their feedback so that you can become better than what you were before. Amaris followed up by saying that students should also remember to set aside their pride.
"You're supposed to be open to being a student," Amaris said. "Being a leader is also about being a follower. Every leader follows somebody else, and if you don't have somebody above you, go find a mentor because we all need guidance."
As Amaris conducts her academics remotely, one thing she is going to miss about not being at Cornell is the snow! Over the years, she has enjoyed Ithaca's seasons and the feeling of being in a small city.
"There's something about the cold and just being stuck in a library like AD White while I'm hashing out a twenty-page paper, and then taking a moment to think wow, how lucky am I to be here? It's cold outside, but I'm living somebody's dream," Amaris said.
Amaris' love for Ithaca and the snow has been an inspiration for her poetry writing, explaining that the environment has helped shape her personally and creatively. Writing plays an important role in Amaris' life. She shared that if she had any extra free time in her schedule, she would use it to work on her poetry. She is currently working on a collection of poems that she hopes to finalize in March, 2021 with the goal of presenting it to publishers. Amaris is also a singer-songwriter, and is working on demo tracks in her home studio! Much of her leadership approach, she believes, is shaped by her artistic abilities.
If Amaris could ask any alum a question, it would be if they felt seen while they were at Cornell and to have them share their story.
 "There are many different stories within Cornell, but I feel like they haven't been talked about enough," Amaris said. "For instance, first generation students come in all shades. Diversity and inclusion needs to go beyond skin. It should include socio-economic status, religion, sexuality, how you see yourself in the world. This is all very important, especially if universities are trying to figure out how can they best work with their students. Because think about it - your alumni are basically walking billboards for your institution. And if students feel like they weren't treated properly, well, the message of 'any person, any study' is going to get lost."
When reflecting on her favorite Cornell memory, Amaris chose her Spring 2020 study abroad experience at the University of Auckland in New Zealand. As the country was shutting down due the pandemic, the newfound time allowed Amaris to focus on her poetry and songwriting. Her time there brought a major life change as well as she met and later married her husband in Auckland. Amaris feels that having the opportunity to travel to New Zealand reminded her that she's a person first and a student second.
"It was a chance to rewire my brain," Amaris said. "Now, I feel I can finish my senior year strong."