Dee Hawks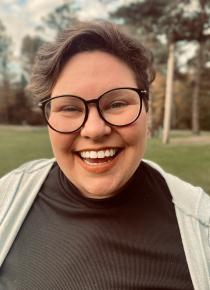 Associate Director of Sorority and Fraternity Life
Dee received her B.A. in Political Science from Northern Kentucky University in Highland Heights, KY in 2011, and her M.Ed. in Student Affairs from Western Kentucky University in Bowling Green, KY in 2017. Prior to arriving in Ithaca, Dee served as a Residence Hall Director for a Sorority Affiliated complex, as well as an Admissions Counselor. Dee is a proud member of Delta Gamma Fraternity. She is passionate about social justice initiatives, with specific interest in lgbtq+ inclusion within the fraternity and sorority community.
Dee currently volunteers her time with the Association of Fraternity/Sorority Advisors through various initiatives and Delta Gamma Fraternity as a national volunteer serving as the Region 1 elected Representative to the International Nominating Committee and a facilitator. Dee resides in Ithaca with her two Italian Greyhounds, Penny & Luna and calico cat, Carmen.
Dee is responsible for overseeing the sophomore housing initiative implementation process as it pertains to sorority and fraternity housing, maintaining collaborative relationships with various housing stakeholders, and leading the office's annual educational programs, trainings, and workshops. At this time, Dee is advising the student leaders in the Panhellenic Council and is the chapter coach for 17 organizations across all three councils, assisting in their planning, development, and coordination of various programs and initiatives.