Collins Peters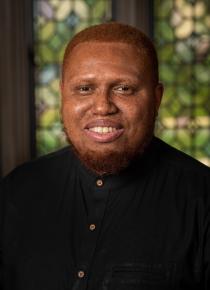 Program Assistant, Office of Spirituality and Meaning-Making
As the Program Assistant for the Office of Spirituality and Meaning-Making, Collins is responsible for the day-to-day operational needs of the unit and its two main programming facilities: Sage Chapel and Anabel Taylor Hall. He also manages the logistics and details of a wide variety of events and programs.  
Collins obtained his baccalaureate degree in Public Administration from the National Open University of Nigeria. Prior to his current position, Collins served as a resident pastor for Living Faith Church. Within this position, Collins focused his teachings on the importance of diversity, equity, and inclusion in creating a culture of respect and value for each person's spiritual journey. In addition, Collins organized summits to educate adolescents from underserved communities on strategies to overcome adversity and develop the skillsets needed to make a positive contribution to society.  
One of Collins' greatest accomplishments derived from his ability to coordinate with local medical professionals to provide treatment and resources to disenfranchised community members who were unable to access affordable healthcare.  
In his spare time, Collins enjoys spending time with his family and friends.