Bridget DuBrey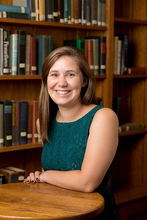 Assistant Director, Campus Activities
525 Willard Straight Hall
Bridget is an Assistant Director in Campus Activities and helps to ensure the success of all student groups on campus. Bridget focuses on helping students learn skills in leadership, inclusion, organization, and time management through their experiences outside of the classroom. Bridget directly advises the '20 and '21 Class Councils, SAFC, and the Senior Days Committee and is excited to assist all student groups throughout the year.
Prior to arriving at Cornell, Bridget worked in Residential Life for several years. During her time in Residential Life programs in Buffalo and Delaware, Bridget cultivated skills in educational programming and found ways to incorporate her passion for live theatre and performance into her work. She also worked to build community, shape student leaders, and manage conflicts.
Bridget has a B.A. in Theatre from SUNY Potsdam and an M.Ed. in Higher Education Administration and Student Affairs from the University at Buffalo.
Outside of work, Bridget can often be found rehearsing or performing with community theatre groups. She also enjoys exploring the outdoors and reading.